Decent VOIP phones for your startup
I haven't posted anything about Tools We Use in awhile, so I thought I'd drop you a post about a recent upgrade.
Like many companies, basically all of the Black Mesa Ventures companies use VOIP phone systems. I think the last company using a local, on-site hardware PBX system sold it in December 2008 and moved everything to hosted VOIP. (See this previous post on this transition.)
And we love it. We have complete web-based management of our telephone lines and extensions, extension pools, forwarding anywhere we need it, as many local and national toll-free numbers as we want, and forwarding of voicemail and fax messages via e-mail to any device. There is also a lot of new competition emerging since we selected a vendor, including Google Voice and Grasshopper.
However, our initial choice of handset didn't work out. We used BudgeTone phones at first, which were OK most of the time, but the sound quality was mediocre and once we moved them behind an additional firewall, they had difficulty logging into the service. (From what we could determine, the port forwarding confused them when there were multiple phones on the network.) They had to go.
Instead, we upgraded to the Linksys (Cisco) SPA942 for our desk handsets. They came pre-configured from our provider and are certainly worth the $80 we spent per phone: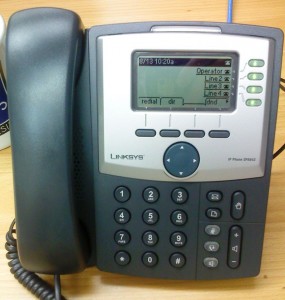 They've got great sound quality, a substantial feel in your hand, great buttons and fast log-in. They're highly programmable and work pretty well with our VOIP service's features. I've never had one drop a call or even stutter. Given that they're going through two firewalls and who knows what kind of proxies upstream, that's saying something.
Feel free to drop us a line if you'd like help thinking about a VOIP system for your startup venture. I think it is the only way to go for the kind of economy and flexibility that suits most new ventures.
The following two tabs change content below.
This blog is dedicated to providing advice, tools and encouragement from one entrepreneur to another. I want to keep this practical and accessible for the new entrepreneur while also providing enough sophistication and depth to prove useful to the successful serial entrepreneur. My target rests somewhere between the garage and the board room, where the work gets done and the hockey stick emerges.
Latest posts by Kraettli Lawrence Epperson (see all)