Software Equity Group releases 3Q09 Software Industry Equity Report
In addition to my previous post about software company valuations, EBITDA multiples and Martin Wolf Securities, I also like to read the Software Equity Group's industry reports in order to align my thinking about rates of return, growth segments and future investment.
They've recently released their third quarter 2009 report:
http://www.softwareequity.com/Reports/3Q09_Software_Industry_Equity_Report.pdf
Overall, there is improvement, although things are far from "back to normal." I'd encourage you to read the report and think about what your company is worth and where you should be investing now for growth.
I'll leave you with one encouraging graphic from that report. This is a graph of total mergers and acquisitions dollars spent in the industry, according to SEG :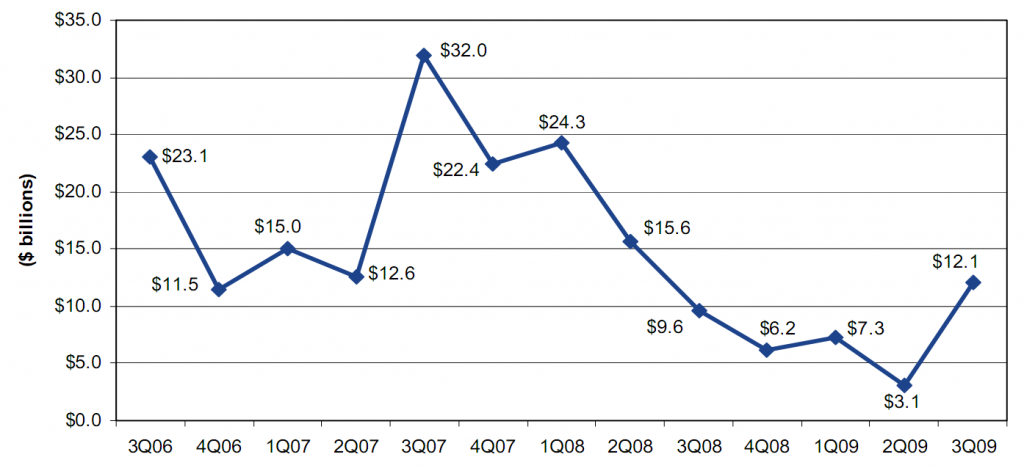 The following two tabs change content below.
This blog is dedicated to providing advice, tools and encouragement from one entrepreneur to another. I want to keep this practical and accessible for the new entrepreneur while also providing enough sophistication and depth to prove useful to the successful serial entrepreneur. My target rests somewhere between the garage and the board room, where the work gets done and the hockey stick emerges.
Latest posts by Kraettli Lawrence Epperson (see all)