The Entrepreneur's Organization of Oklahoma

I recently joined the Board of Directors of my local state chapter of an international non-profit called the Entrepreneur's Organization, or EO.
Background
I became involved with this organization in 2009, after having it recommended to me by Nate Richards of Entrance Software in Houston, currently an officer in his local chapter.
EO is a unique organization that I think is worth profiling for my TechVentureGeek readers, because some of you may find it useful now or in the future.
EO is made up of 7,500 business owners worldwide, who own or are significant shareholders of businesses with $1MM or more in revenues. Membership is by application and you can apply by going here and clicking Apply.
The organization is volunteer-run and the members do the bulk of the work themselves, with a few paid national staffers in Washington DC to keep things moving. Founded in 1987, the group focuses on both professional and personal growth of the individual members through educational and social events.
It also encourages each member to join a local Forum group, in which the highs and lows of owning a business can be discussed with other business owners in confidence.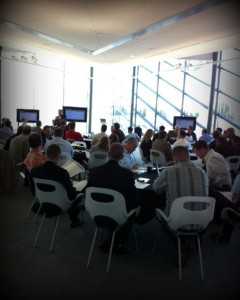 Why join?
One of the major reasons to join EO is to be able to participate in a Forum group. A Forum group is a small group of 8 to 10 chapter members who meet monthly to discuss their businesses and their lives in a structured way. This is a unique, gestalt process that requires all members to be respectful and fully engaged. Members of a Forum group are only allowed to share experiences and discuss problems in a non-judgemental manner, rather than offering advice or instruction.
Putting a bunch of extremely independent, successful people in a room using this process creates a really powerful learning dynamic. Suddenly, you can talk about difficult business and personal problems with other individuals who have or may currently be facing the sames issues.
In addition to Forum, which is basically work the price of admission, EO also offers unique, life-changing experiences. If you want the chance to have dinner with a major international innovator or talk one-on-one with one of the world's greatest investors, this is the business group that can deliver.
A couple of months ago, I got to spend part of a trading session on the floor of the Chicago Board of Options Exchange (CBOE) as part of a small group of business owners, and to then hear the history of financial options, and Chicago's unique place in that history, from William Brodsky, the CEO of the CBOE. This was truly a once-in-a-lifetime experience.
EO sponsors those kinds of events multiple times a year, throughout the world, hosting the top international political and business leaders in intimate settings.
Giving Back
I have enjoyed my participation in EO and decided it was time to give back. EO is a volunteer organization, and it needs volunteers, especially for leadership.
As you can probably tell from reading this blog, it is important to me to be involved in entrepreneurial education. This blog is part of that effort. In the past, I created and taught the Entrepreneurial Leadership course at Rice University for four years as an adjunct.
Now, joining the board of my EO chapter is my latest effort to give back my time and experience to my community and continue in my mission to promote entrepreneurship, especially during a time of bleak economic forecasts and low business morale among many. Ultimately, I believe that entrepreneurship, and especially technical and business innovation, will lead our country out of its current slump – and nothing else can take the place of startup business growth to create overall economic growth.
Communications Chair
I've joined the board of EO Oklahoma as Communications Chair under 2011-2012 President, Roy Georgia. Roy is an Oklahoma entrepreneur, owner of Techniq Consulting, and also happens to be a member of my Forum. Watch this space for announcements from EO to the larger Oklahoma entrepreneurial community – and I expect I'll be a bit busy for about 12 months!
The following two tabs change content below.
This blog is dedicated to providing advice, tools and encouragement from one entrepreneur to another. I want to keep this practical and accessible for the new entrepreneur while also providing enough sophistication and depth to prove useful to the successful serial entrepreneur. My target rests somewhere between the garage and the board room, where the work gets done and the hockey stick emerges.
Latest posts by Kraettli Lawrence Epperson (see all)