EO and Junior Achievement Team Up: Clark Elementary School JA-in-a-Day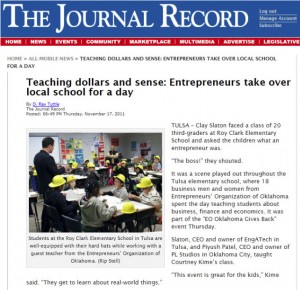 I had the pleasure and honor of participating in Junior Achievement's "JA in a Day" event as a member of The Entrepreneur's Organization of Oklahoma. For this event, members of The Entrepreneur's Organization of Oklahoma volunteered to go into an underpriviledged school and teach an age-appropriate business curriculum for a day.
For details on the event, read the full press release here.
We got great press coverage for the event and personally, I had a great time! Nice to see EO Oklahoma reaching out into the community.
The following two tabs change content below.
This blog is dedicated to providing advice, tools and encouragement from one entrepreneur to another. I want to keep this practical and accessible for the new entrepreneur while also providing enough sophistication and depth to prove useful to the successful serial entrepreneur. My target rests somewhere between the garage and the board room, where the work gets done and the hockey stick emerges.
Latest posts by Kraettli Lawrence Epperson (see all)