Review: BlackBerry Q10 Smartphone with BB OS 10.2.1 – UPDATED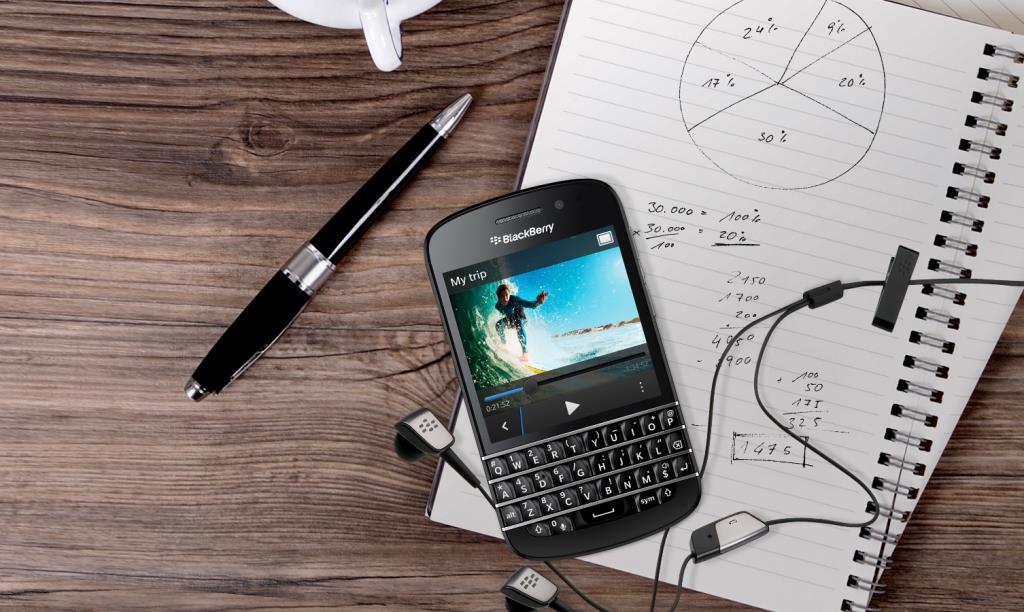 Never thought I'd say this, but I love my new BlackBerry. Yes, I bought a BlackBerry phone. Who does that? Me, I guess.
I needed something with a QWERTY keyboard. I'm in meetings, conferences and on the road a lot of the time and basically run multiple businesses from my phone. I need to be able to send fast, 100% accurate emails and texts 100% of the time, so I decided to buy a QWERTY phone for the first time in 5+ years.
I asked a couple of friends and they recommended the BlackBerry Q10. I took at look at their phones, liked what I saw and ordered one online (no-contract) and started setting it up. I was careful to order the version that was built for T-Mobile, which ensured that it would get 4G LTE connection speeds, and it has.
"Productivity Phone"
I figured there would be serious shortcomings and compromises I'd have to make in order to switch to BlackBerry OS 10. I was totally wrong.
The Q10 is a "productivity phone." I thought this was just a BlackBerry buzz phrase to try to distinguish their products in a crowded and highly competitive market, even while their market share continues to shrink and they continue to get dinged on various corporate and product mis-steps…
But it turns out that a "productivity phone" was what I'd been looking for all the time, without knowing it.
There are only a few things I care about in a smartphone. Raw 4G-LTE speed for browsing and email, ability to post to social media from events, decent camera, and a great screen. And a QWERTY keyboard. Everything else is just an add-on gimmick. The Q10 has all of those things, including good call quality, plus the OS is organized around communications and ability to organize and prioritize communications. They really got it right.
There is a trade-off, in that the BlackBerry World store has far fewer apps than either the Apple iOS store or the Android Google Store. However, there are fast workarounds: I can run any Android app I care to run using either the BlackBerry Snap App or direct APK side-load via the website apktrain.com.
I loaded one of my most frequently used apps, Hootsuite, using apktrain and had it working immediately.
The level of integration into the OS is lower with these side-loaded, out-of-band Android apps. Oh well. Hasn't proved a big problem for me yet.
The Specs
The specs on the phone:
Display Resolution

720 x 720 resolution, at 330 PPI
24-bit color depth
Super AMOLED

Screen size

3.1″ diagonal
1:1 aspect ratio

OS & support

Operating system – BlackBerry 10 OS
Desktop software – BlackBerry Link software for your computer to enable synchronization of data and media

Performance

Processor

Qualcomm Snapdragon – Qualcomm® Snapdragon™ S4 processor with 1.5 GHz dual-core CPUs

Memory
Expandable memory

Removable microSD memory card – slot under battery door (Up to 32 GB)

USB Ports

USB 2.0 high speed port – allows charging and data synchronization of the device with a USB cable

HDMI Port

Micro HDMI for connection to your HDTV or projector

Battery

2100mAH removable battery

Battery Life

Up to 13.5 hours talk time (3G)
Up to 14.8 days standby time (3G)  *Note: Battery life claims are for Model SQN100-5

Camera & video

Rear camera

8 megapixel auto-focus camera
Back Side Illumination for better low-light performance
5-element F2.2 lens
Dedicated ISP (image signal processor) with 64MB frame buffer
Flash, continuous and touch to focus, image stabilization
Enhanced Super Resolution Digital Zoom (5x)
1080p HD video recording
4 DOF (Degrees of freedom) video stabilization
Hybrid absorptive IR filter
Time Shift mode for pinpointing and adjusting individual elements of your picture

Front camera

2 megapixel fixed-focus camera
Image and video stabilization
3x digital zoom
720p HD video recording

Network

wifi – 802.11b/g/n
4G LTE (check model for your network; not all models get LTE on all networks!)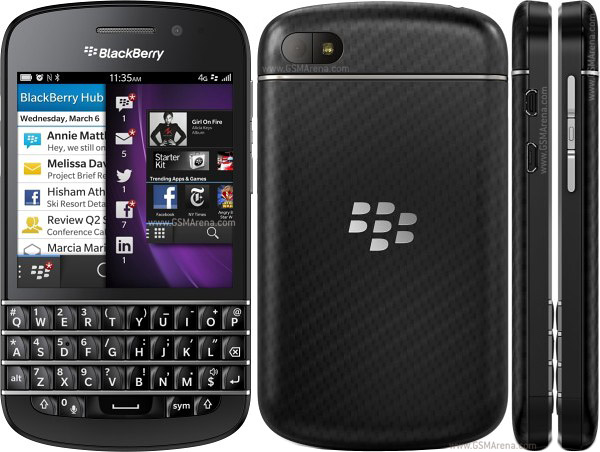 Overall, the build is solid, the keyboard is fantastic – obviously refined over many generations – and the speed and fluidity of the phone is good.
There are some quirks. Switching between apps involves flicking upwards from the bottom of the screen or flicking leftwards from the right of the screen. However, you can truly run multiple apps simultaneously and see what you're running. Overall, once you get used to it, it is a great system.
It hear some complaints about the camera, but the pictures I've taken look great. The camera may not be as good as some of the phones with the latest, greatest, top-of-the-line cameras, but for my everyday snapshots, it appears to be more than sufficient.
The BlackBerry Hub
Probably the crowning achievement of the BlackBerry OS10 environment is the Hub. Not having used BlackBerry before, I don't know how long this has been around, but it is the best message and alert aggregator I've seen. On Android phones, you get alerts from individual apps, and then can go to the app to see the alert. BlackBerry removes an entire step and has a central Hub app that lists all of your notifications across all registered accounts and allows you to read the alert. No more opening the FB app just to see something stupid that didn't need your time. You can prioritize and organize these alerts, look at a list only of high priority alerts, and look at only certain types of alerts – like all text messages.
Obviously, the Hub is only as good as the accounts to which it connects. But it connects to a lot. I use FB, Twitter, LinkedIn, email accounts, text, phone, and voicemail. It also has Evernote, MS Exchange, MS Outlook.com, Yahoo Mail, Gmail and several other calendar protocols.
However, even non-BlackBerry apps – like HootSuite – apparently get some access to the Hub, because I also get some alerts from HootSuite.
Synchronization – Contacts & Calendar
Also – this is a big one – the Google, Apple and Microsoft decided some years ago that your data is their data, whether you like it or not. Everyone who is a serious user of a smartphone wants to put their calendar and contacts onto their phone and keep them in synch with their desktop app. That's why we purchased the smartphone.
But in the Google, Apple and Microsoft world, you have two choices: You can upload all of your data from the desktop to a cloud account from the company, and then sync back down to your phone, or your can purchase a third-party product to synchronize at the desktop with USB.
The proprietary, closed cloud sync solutions are absurd. I don't need to send my 3,000 contacts to somebody else's server and have them floating around outside my laptop. What happens when they decide to "upgrade" their service in favor of a new variety of BS, and the cloud evaporates? What happens when their Wall Street masters demand that they start data mining my data to sell for a profit (as Google already does)? No thanks.
And the third-party apps do work, but they're clunky and fiddly, requiring a lot of work to get them to do their one job and often fail unpredictably, after working for months and years.
BlackBerry has figured this out. Their OS10 comes with the free BlackBerry Link software, which you can download and use to sync your Outlook contacts and calendar to your phone. It will sync over USB or wifi. And it works consistently.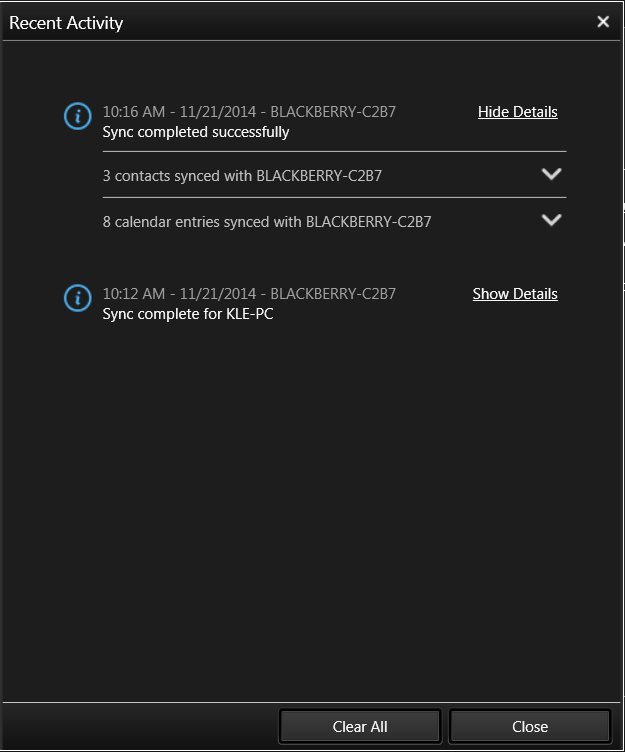 Now, I'll admit, it took several hours to work through some quirks in the BlackBerry software. There are some bugs. However, compared to the years of pain and uncertainly offered by the competing products, BlackBerry Link is simply awesome.
(Let me save you 4 to 6 hours of fiddling. Here are the two hints I needed to get everything working perfectly with BlackBerry Link: (1) Sync all calendar items. Don't try to sync "just the last 30 days." It doesn't work. (2) Manually register the DLLs. It takes 1 minute.)
Summary
If you're a business person who travels a lot, is in meetings, and needs a highly reliable, solid, QWERTY smart phone, this is your baby. It feels like it means business, and it makes me more productive while staying out of the way. Love it.
 UPDATE – 12-22-2014
OK, so the BBLink software is crap. It synced a few times and then stopped. All attempts to revive it over several days failed. The list of errors it throws is enormous. It won't even recognize Outlook anymore. Unbelievable. There are thousands of pages of complaints online.
However, I still love the phone. Fortunately, there is an alternative. CompanionLink (which some people like and some people don't) has a product just for this problem, called BB10 PC Outlook Sync for $25.
I couldn't get the regular CompanionLink software to work ($50) without installing and configuring DejaHub and/or DejaOffice, which try to replace your native contacts/calendar apps. But I got PC Outlook Sync to work pretty easily. Just remember that your Blackberry may have multiple calendars running. Check all of them.
So, I've got everything working to my liking again. And I never had any better luck with my Android and Microsoft phones anyway, and always resorted to a third-party USB sync software anyway, so Blackberry is no worse than the competition.
Also, Drake loves his Blackberry, so it's all good.
The following two tabs change content below.
This blog is dedicated to providing advice, tools and encouragement from one entrepreneur to another. I want to keep this practical and accessible for the new entrepreneur while also providing enough sophistication and depth to prove useful to the successful serial entrepreneur. My target rests somewhere between the garage and the board room, where the work gets done and the hockey stick emerges.
Latest posts by Kraettli Lawrence Epperson (see all)