Newsle.com is a new tool we use – and like!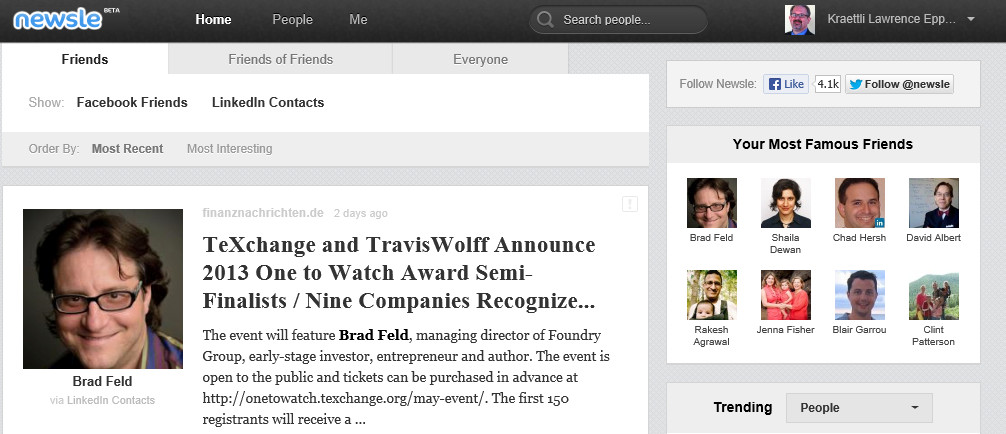 Currently in an open beta, I'm enjoying a new product called Newsle.
Newsle is a web portal, feed and email service that alerts you to "real" news about your friends, as found primarily through your Facebook, LinkedIn, and email directory. The difference between this service, and other forms of "news following" is that Newsle brings you updates about these people exclusively for authoritative third-parties, like newspapers, television station websites, etc. They're targeting "real news" about your friends, rather than social media "news" and self-promoted chaff.
I like it. Moderated, edited, ad-supported and paid news outlets still have a very important place in my constellation of daily info sources, and their ability to pull real news out for me is useful. Especially if I want to congratulate someone on a the recent appearance of their company in the press, or a recent interview they've given.
Long-term, I'd exact this to become a feature of other following-services I use – like Google Alerts – which a checkbox for "tag third-party, authoritative appearances" – but in the mean time, this is really useful.
Of course, there is serious discussion about whether Google Alerts is going to survive much longer.
The following two tabs change content below.
This blog is dedicated to providing advice, tools and encouragement from one entrepreneur to another. I want to keep this practical and accessible for the new entrepreneur while also providing enough sophistication and depth to prove useful to the successful serial entrepreneur. My target rests somewhere between the garage and the board room, where the work gets done and the hockey stick emerges.
Latest posts by Kraettli Lawrence Epperson (see all)