Review: Hootsuite for Managing Social Media

Hootsuite is an online web application that provides a streamlined, highly customizable interface for managing multiple social media outlets, especially including multiple Twitter accounts, Facebook accounts and pages, as well as Plaxo and LinkedIn accounts.
It is currently free to sign up for an account. Getting started is painless. After you set up connections to a few accounts, Hootsuite's default interface layout is immediately useful and required little fiddling to meet our needs.
Updates stream automatically through multiple vertical windows laid out across the screen, allowing you to track posts, mentions and direct messages on a single screen. Ongoing conversations are also tracked and can be displayed with a single click.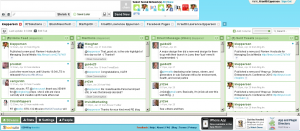 We use it for all of the above, and especially to monitor for direct messages, mentions and relevant posts.
It also provides scheduling of posts, which we find invaluable when we want to tell absolutely everybody about our company's latest technical triumph… but it happens to be 1:38 AM in the morning…
The ability to post to multiple streams at once, to quickly respond to messages, and to set up intervals for automatic updating of various streams, all make this a very user-friendly product.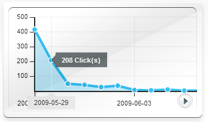 We also really like the detailed statistics available about the number of clicks received on our individual posts, so we can know quickly whether anyone actually cared about our aforementioned early morning triumph, or whether we'd better take our misplaced geeky enthusiasm elsewhere.
There will certainly be changes as Hootsuite figures out how it is going to monetize this very successful product.
If I had to guess, that will involve charging corporate users (like us, probably) for some premium features. But given how the product has developed so far, the value for money will be high on those features, and we'll be likely to pay the price.
For us, Hootsuite makes social media make sense, because it takes a lot of the drudgery out of managing multiple accounts in real time. There's real value in that formula.
The following two tabs change content below.
This blog is dedicated to providing advice, tools and encouragement from one entrepreneur to another. I want to keep this practical and accessible for the new entrepreneur while also providing enough sophistication and depth to prove useful to the successful serial entrepreneur. My target rests somewhere between the garage and the board room, where the work gets done and the hockey stick emerges.
Latest posts by Kraettli Lawrence Epperson (see all)