Online Service Review: Google Alerts – Cheap and Dirty Competitive Intelligence & Market Tracking

I use a whole slew of Google Alerts to keep up with what friends, colleagues and competitors are doing. Google Alerts is a free service of Google that automatically sends you an e-mail when a particular search comes up with new results in their index.
For example, a new article about your selected keywords will trigger an alert, just as if you'd run a search and asked for the results ordered by the latest items.
For me, as an entrepreneur, obvious keywords include the names of businesses in which I have an interest, products that I follow, and executives and others who need an eye kept on them at all times, lest they do something brilliant or dastardly without my immediate notice.
Google Alerts is simple to use. Go to the Google Alerts website and create an account. If you've already got a Google account through AdWords, AdSense or Analytics, you'll already have access to Alerts. Simply go to the Alerts site when you're logged in and you'll be recognized.
Creating alerts is just as simple as doing a Google search, but be careful not to make your search terms too broad, or you'll get spammed with tons of alerts that may include your keywords, but aren't actually related to your area of interest.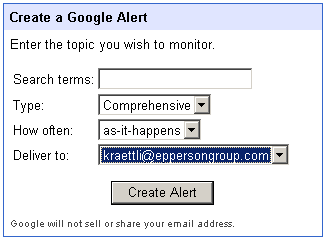 When creating your alerts, be sure to be highly specific. Be sure to enclose your exact phrase in quotes to limit the number of false hits.
If you're following a company in the news, be sure to include the company's exact name in quotes so that you don't get alerts about new postings on the Web that contain the words in the company's name, but aren't about the company.
You can further ensure that you're only getting relevant hits by adding an additional keyword to your alert, like the company's industry, or something else that is likely to appear in every major article about the company.
Even more useful, sometimes, are people's names. They tend to be more unique and can be tracked along with their company's name.
If you want to know where your competitor's salespeople are speaking next month at a public conference or industry convention, be sure to put their names into alerts. When the presentation is announced and shows up on event calendars, you'll get an e-mail immediately. I can learn about the release of new products, changes at major clients, and other events immediately with little effort using Google Alerts.
Use the Alerts help page to learn more about the details of setting up alerts. Also, the Advanced Search help page is useful in using effective boolean terms for your searches.

Also, the Google Advanced Search page and Google News Advanced Search pages, which help you construct much more complex and specific Google and Google News searches, which you can copy into alerts for ongoing monitoring.
Google Alerts, used correctly, is a fantastic tool for tracking events that are timely and informative to know about, but that I couldn't and wouldn't manually track.
The following two tabs change content below.
This blog is dedicated to providing advice, tools and encouragement from one entrepreneur to another. I want to keep this practical and accessible for the new entrepreneur while also providing enough sophistication and depth to prove useful to the successful serial entrepreneur. My target rests somewhere between the garage and the board room, where the work gets done and the hockey stick emerges.
Latest posts by Kraettli Lawrence Epperson (see all)