What Startups Are the Supermajor Oil and Gas Companies Seeking?

As part of the Rice Alliance Energy and Clean Technology Venture Forum, we got to hear a panel discussion from the venture capital investment arms of several major oil and gas companies, including Mark Blackwell of Cenovus Energy Venture Group, Issam Dairanieh of BP Ventures, John Egil Johannessen of Statoil Technology Invest, Christina Parapataki of Schlumberger Ventures, Alexander Rozenfeld of Shell Technology Ventures and Cory Steffeck of Saudi Aramco Energy Ventures.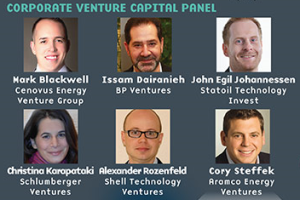 The most interesting part of the discussion was, undoubtedly, the panel Q&A. I won't try to summarize the whole session, but here are some critical highlights for companies considering raising money for innovative products in the oil patch in 2013:
If you're going to approach one of these investment departments, know their pain points! They are investing strategically. They want to lower their costs or make more money. Look at their annual reports. Know where their pain points are, and where their budget goes. Know their major focus and operational approach.
Know their recent investment history. If they've already invested in something similar, they're probably not going to invest in your startup.
Do not spent a lot of time telling them about their market size and needs: They know this stuff! You don't need to sell them on their industry as a market. Just launch into how your solution saves them a bunch of money.
Be sure that your first slide addresses the company's pain! Don't wait to explain this. You have 1.5 minutes to get them hooked. Otherwise, you've lost them.
They're going to bring in a technical guru with 30-years of experience to evaluate your technical pitch. Know your stuff and don't be surprised.
Everyone in management at your startup needs to know both the business and technical side of your pitch. Your business people have to speak tech and your tech people need to understand the business proposition. Sometimes, you only get one chance to talk to them and if you can't address the big picture, you're going to miss out.
Some of them do joint development agreements and some of them don't. Some of them only look at the financial impact and act like a traditional VC, even if they have a strategic interest. Some of them do joint development agreements, in which they become your first big client and help you develop your product. In those cases, some of them make a joint decision at the investment department with the operating department that will handle the development and some of them pass that decision entirely down the chain to the operational department. You have to ask up front.
Here are the investment areas that they're most interested in today:
Sensors;  up top and down hole. They're going to be critical and ubiquitous.
Data integration; right now, everything is still separate. It shouldn't be, and they know it.
Seismic analysis; They know there are great advances coming in seismic analysis and capabilities.
Drilling technologies; Getting the hole drilled is where they spend most of their money on a well; Anything that reduces this, lowers risk, improves speed and productivity, is going to get their attention.
De-sulphurization is a major pain point. Water removal is a major pain point. Look at their budgets. They spend a huge amount on these things. If you can help, they want to talk to you.
Catalyzation is a major area of development in production and refining. Anything that can help in pre-processing of product at the time of retrieval, before transportation, or to help in refining, is going to have their interest.
The following two tabs change content below.
This blog is dedicated to providing advice, tools and encouragement from one entrepreneur to another. I want to keep this practical and accessible for the new entrepreneur while also providing enough sophistication and depth to prove useful to the successful serial entrepreneur. My target rests somewhere between the garage and the board room, where the work gets done and the hockey stick emerges.
Latest posts by Kraettli Lawrence Epperson (see all)