VentureSpur Launch Announcement

I have co-founded a new venture accelerator and seed investment fund based in Oklahoma City.
The accelerator is called VentureSpur and it runs on the same model as TechStars, yCombinator, and Tech Wildcatters. I'm very excited about this new project!
As many of you probably know, after I sold out of my position as CTO and co-founder of Questia Media, I started doing angel investing and also created and taught the first undergraduate course in entrepreneurship at Rice University.
I also spent some time creating the due diligence and review process for the Houston Angel Network as a member of the board, and joined the Rice Alliance.
My personal angel fund, The Epperson Group, completed 4 angel investments, includuing HyperAlert and R7 Solutions, both of which are thriving today.
I ended up taking an executive position in R7 Solutions, which I continue to hold today, but have remained an engaged private investor and was delighted when the opportunity to co-found VentureSpur came along.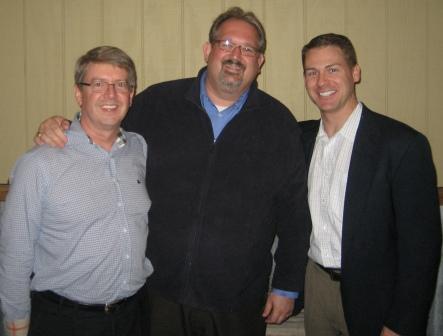 My two co-founders, David Matthews and Gabe Bass, are native Oklahomans. I am as well, having had my family based here, with my great-grandparents starting in at least the 1850s, and spending my childhood in Oklahoma City.
David is Managing Partner of Trailblazer Capital, the Green Bull Fund and the Oklahoma Opportunity Fund, among other things. He's based out of Dallas, but grew up in and is very active in Oklahoma.
Gabe is Managing Partner of Bass Law, a statewide law firm with several offices, a growing list of partners and a high-tech approach to legal work and service delivery. He was also an early employee of Handango, a company started by a couple of my former colleagues after they left Interliant. I only discovered this after I'd met Gabe through the Entrepreneur's Organization of Oklahoma. Small world!
In addition to co-founding VentureSpur, I'm also serving as its interim Managing Director to kick it off and see that the first accelerator class gets launched in style. It keeps me busy, but somebody has to do it and I'm really having a great time.
Acting as the executive director of VentureSpur allows me to indulge my angel investing appetite, my desire to give back to the local community and the entrepreneurial community through education, and my ambitions to see a diverse and innovative economy develop here in Oklahoma.
As we get started and kick off the first class, I'll take the opportunity to provide insights from the inside about running an accelerator and seed fund here a TechVentureGeek, and share important announcements with you as the year progresses.
Have a great 2012 and keep geeking and venturing!
The following two tabs change content below.
This blog is dedicated to providing advice, tools and encouragement from one entrepreneur to another. I want to keep this practical and accessible for the new entrepreneur while also providing enough sophistication and depth to prove useful to the successful serial entrepreneur. My target rests somewhere between the garage and the board room, where the work gets done and the hockey stick emerges.
Latest posts by Kraettli Lawrence Epperson (see all)