VentureSpur announces top 10 Finalists for 2012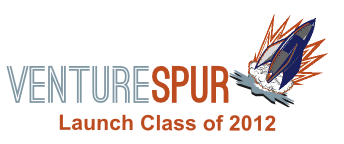 VentureSpur has announced its Finalists for 2012. These are the 10 companies that were selected from all applications to participate in the Quick Pitch process with the accelerator, to win a chance to join the first class. I can tell you, there are some very interesting companies in this group! I've met with quite a few of these teams, answered their questions, talked business plans with them, and know how much promise and ambition they contain. Looking forward to hearing more for these great teams!
Here's the VentureSpur post, including the Finalist list and the full press release (PDF).
We're very pleased to announce our 10 Finalist teams for the 2012 accelerator program.
These teams have been informed of their Finalist award and will be making a quick pitch to our management and investors in the near future.
Our three admissions to the accelerator program for 2012 will be announced on July 6.
A big congratulations to the teams:
Startups
(alphabetically)
Team Leader
City
Industry
CleanNG
Matt Villarreal
Stillwater, OK
Energy Technology
Dealgy
Michael Onaolapo
Forth Worth, TX
Online Consumer Service
Fresh Surfaces
Kellye Kamp
Oklahoma City, OK
Online Consumer Service
GoldFire Studios
James Simpson
Oklahoma City, OK
Mobile Gaming
idefi Music
Brady Deaton
Tulsa, OK
Online Consumer Service
Kelson Research Group
Ken Stoner
Oklahoma City, OK
Online Business Service
Kwotas
Paul Johnson
Dallas, TX
Online Business Service
MaxQ
Saravan Kumar
Tulsa, OK
Biotechnology
MesoBio
Shoaib Shaikh
Stillwater, OK
Biotechnology
PigeonMe
Devan Twyman
Oklahoma City, OK
Mobile location-based
The following two tabs change content below.
This blog is dedicated to providing advice, tools and encouragement from one entrepreneur to another. I want to keep this practical and accessible for the new entrepreneur while also providing enough sophistication and depth to prove useful to the successful serial entrepreneur. My target rests somewhere between the garage and the board room, where the work gets done and the hockey stick emerges.
Latest posts by Kraettli Lawrence Epperson (see all)