TractionTank Launch Featured on TechCocktail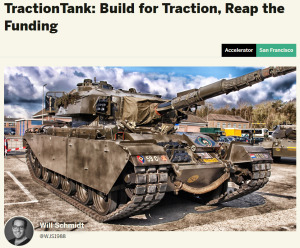 TractionTank's launch was featured in TechCocktail today in a story written by Will Schmidt (@WJS1988)
From the story:
"Why is it so difficult to pick great startups out of the crowd? I was recently asked this question by the entrepreneurial duo Kraettli Epperson and Eric Morrow. You see, they've built an accelerator in San Francisco based on the foundation of this question, and it's totally different from anything I've seen."
Emphasized in the article is now TractionTank is very different from other accelerators:
Pointedly, they built the accelerator on the philosophy that market testing and market traction should, in fact, come before any kind of major fundraising activity. In that light the team is expecting TractionTank to become a pre-accelerator or admissions contest for other accelerators.
Read the full story here: TractionTank: Build for Traction, Reap the Funding
The following two tabs change content below.
This blog is dedicated to providing advice, tools and encouragement from one entrepreneur to another. I want to keep this practical and accessible for the new entrepreneur while also providing enough sophistication and depth to prove useful to the successful serial entrepreneur. My target rests somewhere between the garage and the board room, where the work gets done and the hockey stick emerges.
Latest posts by Kraettli Lawrence Epperson (see all)