vakargo Launch Party Celebrating Public Platform Launch
Celebrate the launch of vakargo!
2015 is the Year of the SHIP!
I'm very proud to announce that vakargo, an Oklahoma startup that I have had the privilege of advising through the LaunchOklahoma accelerator this past year, will be celebrating the public launch of their shipping platform this Sunday!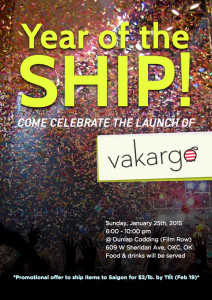 Please join me in congratulating their hard work at their Launch Party on Sunday, January 25th at Dunlap Codding on Oklahoma City's Film Row.
vakargo is a peer-to-peer marketplace that leverages unused personal luggage space and commercial cargo space to make shipping more cost effective and efficient.
Help us congratulate and promote this great Oklahoma startup by joining the launch party this Sunday! Enjoy refreshments and find out about their special launch promotion!
Read more about shipping with vakargo on their website: www.vakargo.com
The following two tabs change content below.
This blog is dedicated to providing advice, tools and encouragement from one entrepreneur to another. I want to keep this practical and accessible for the new entrepreneur while also providing enough sophistication and depth to prove useful to the successful serial entrepreneur. My target rests somewhere between the garage and the board room, where the work gets done and the hockey stick emerges.
Latest posts by Kraettli Lawrence Epperson (see all)